Alexei Kozlov - the new Estonian champion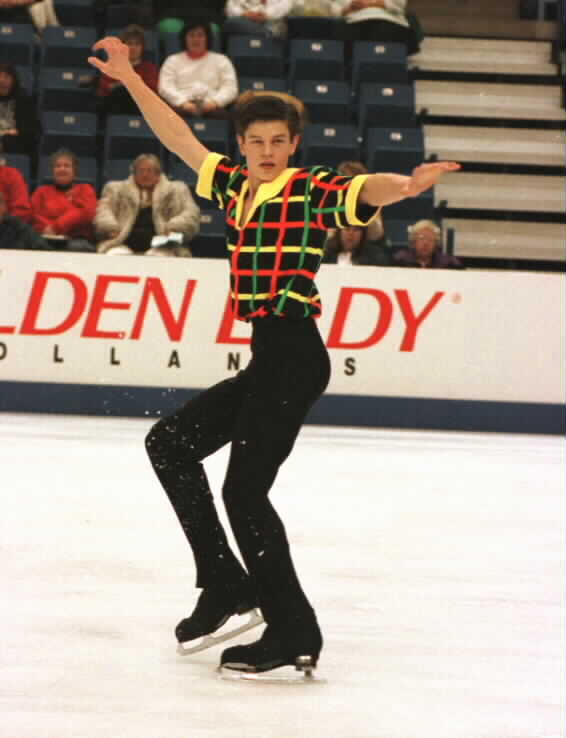 Photo copyrighted - J. Barry Mittan.
Bio:
| | |
| --- | --- |
| BIRTHDATE: | 8th June 1979 |
| COACH: | Marina Daub, gets also some help from Viktor Kudriavtsev |
| CHOREOGRAPHER: | often himself |
| CLUB/RINK: | Rataskaar, although some pages say it's Jäätäht? |
Alexei's programs:
Season
Short program
Long program
2000/2001
Toccata and Fugue in D Minor by Bach, performed by Vanessa Mae
Polovtsian Dances including a popular piece from Prince Igor by Borodin
1999/2000
Romeo and Juliet
1998/1999
Romeo and Juliet
Alexei Kozlov has all the physical pre-requisites to make it all the way to the top: tall, slim, and what is not less important - shows hope of becoming a real heartthrob in the nearest future. If not under pressure he does triples like no one else and should be able to do the quads, as I was told by a coach. At a showpractice he just started doing triple loops for fun. And all of them were perfect! He has a good and effortless 3 Axel too. He just needs to get more consistent.
Alexei is studying at a Moscow University and practices often there with coach Viktor Kudriavtsev.

Alexei Kozlov has taken part and placed the following in these international competitions:
18th 2001 European Championships
11th 2000 Finlandia Trophy
9th 2000 Ondrej Nepala Memorial
4th 2000 Nebelhorn Trophy
1st 2000 Crystal Skate of Romania
7th 1999 Ondrej Nepala Memorial
6th 1999 Tallinn Cup
3rd 1998 Piruetten
14th 1998 World Junior Championships
16th 1997 Vienna Cup (Karl Schafer Memorial)
2nd 1997 Memorial Ondreja Nepelu
7th 1997 Grand Prix de St. Gervais
8 th 1997 Gardena Spring Trophy
16th 1996 Nebelhorn Trophy (Obersdorf)
13th 1996 Coupe des Alpes (St. Gervais)
Links to articles about Alexei:
Links to places where Alexei is mentioned: