Liina-Grete Lilender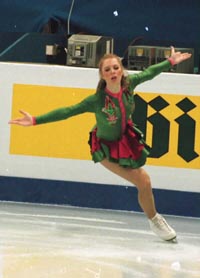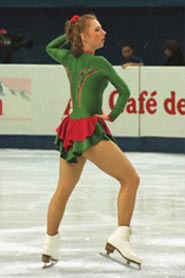 All Photos Copyrighted - J. Barry Mittan
Bio:
| | |
| --- | --- |
| BIRTHDATE: | 14 October 1979 |
| COACH: | Irina Kononova |
| CHOREOGRAPHER: | Anna Levandi |
| CLUB/RINK: | Tallinna iluuisutamine klubi |

Liina-Grete (she calls herself just Grete) is also working as an assistant coach in Anna Levandi's figure skating club for the youngest skaters. She has cut her hair and looks really nice.
She is studying violin in a music school and will graduate with a diploma which will allow her to be a music teacher. As she said herself - then I can be either a coach or a teacher.
Grete is practicing the 3 Lutz a lot and hopes to put this jump into her program by the end of this season. Her programs this season have been coreographed by Anna Levandi. Her costumes are sewn in Finland. For the sort program she has a lovely black and yellow sleek dress and for the long she had black glittery with golden part in the middle dress.

Liina-Grete Lilender has taken part and placed the following in these international competitions:
8th 2000 Tallinn Cup
3rd 1999 Tallinn Championships
7th 1999 Tallinn Cup
DNQ 1997 World Championships
22nd 1996 Vienna Cup (Karl Schaefer Memorial)
16th 1996 Triglav Trophy
20th 1994 Vienna Cup (Karl Schaefer Memorial)
Links to articles about Liina-Grete:
Links to places where Liina-Grete is mentioned:
You're guest no. on this page. Thank you for visiting!