The place to find out news and information about Estonian figure skating and figure skaters
Part of Estonian National Team 2000/2001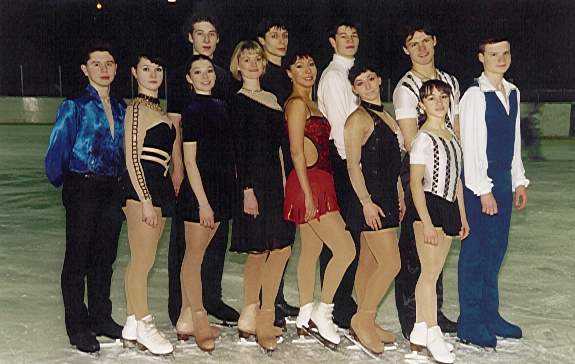 Roman Martynenko, Ekaterina Golovatenko,Timofeeva/Striganov (junior), Mosenkova/Sychov, Olga Vassilyeva, Alexei Kozlov, Maria Levitan (junior), Shklover/Mintals, Alexei Saks (junior).
There are about 300 young people involved in figure skating in Estonia. Plus, of course, the hundreds who play hockey and the thousands who skate for fun. This number may seem small when compared to America for example, but after I have described the situation here a bit more, you'll understand why we don't have any more skaters and maybe there also lays the reason why we don't have any international champion skaters yet.

*************************
Results of Estonian skaters from 2000/2001 season:

23-26 August Junior Grand Prix event in St. Gervais, France
Viktoria Shklover/Valdis Mintals, 3rd in Pairs

5-8 September Nebelhorn Trophy 2000
Alexei Kozlov 4th place in Men's
Olga Vassilyeva 8th place in Ladies'

21-24 September Ondrej Nepala Memorial
Ekaterina Golovatenko 15th in Ladies'
Olga Vassilyeva 14th place in Ladies'
Alexei Kozlov 9th in Men's
Roman Martynenko 22nd in Men's

13-15 October, Finlandia Trophy, Finland
Olga Vassilyeva 9th in Ladies'
Alexei Kozlov 11th in Men's
Anna Mosenkova/Sergei Sychov 9th in Dance

19-22 October ISU Junior Grand Prix Ostrava, Czech Republic
Maria Levitan 26th in Ladies'
Alexei Saks 16th in Men's
Maria Timofeeva/Evgeny Striganov 18th in Dance

26-29 October ISU Junior Grand Prix Gdansk, Poland
Maria Levitan 27th in Ladies'
Alexei Saks 16th in Men's
Viktoria Shklover/Valdis Mintals 6th in Pairs
Maria Timofeeva/Evgeny Striganov 12 in Dance (very good for them!)

23-26 November ISU Grand Prix Trophee Lalique
Shklover/Mintals 9th in Pairs.

21-28 January European Championships in Bratislava, Slovak Republic
Alexei Kozlov finished 18th in Men's Singles
Olga Vassilyeva finished 29th in Ladies' Singles
Viktoria Shklvoer/Valdis Mintals finished 10th in Pairs
Anna Mosenkova/Sergei Sychov finished 25th in Ice Dance

7-15 February Winter Universiade, Poland
Alexei Kozlov 12th in Men's Singles
Margus Hernits 17th in Men's Singles
Ekaterina Golovatenko 10th in Ladies' Singles

February World Junior Championships,
Alexei Saks 30th in Men's Singles
Maria Timofeeva/Evgeny Striganov 23rd in Dance

18-25 March World Figure Skating Championships, Vancouver, Canada
Olga Vassilyeva 41st in Ladies' Singles
Alexei Kozlov 31st in Men's Singles
Anna Mosenkova/Sergei Sychov 29th in Dance
Viktoria Shklover/Valdis Mintals 18th in Pairs

April World Synchronized Skating Championships, Helsinki, Finland
Estonian Team "Silver Skate" 18th


Our more famous skaters are:
Men's singles

Ladies' singles

Pairs

Ice Dancing

Anna Mosenkova/Sergei Sychov
Kristina Kalesnik/Aleksander Terentyev - this pair has split and neither of them is skating as of now. I will try to make a page for our new senior ice dancing team soon. Patience!
Learn more!!!


Send me an email. NB! Please, no chain letters or spam mail!




Thank you very much for visiting and I hope to see you again!